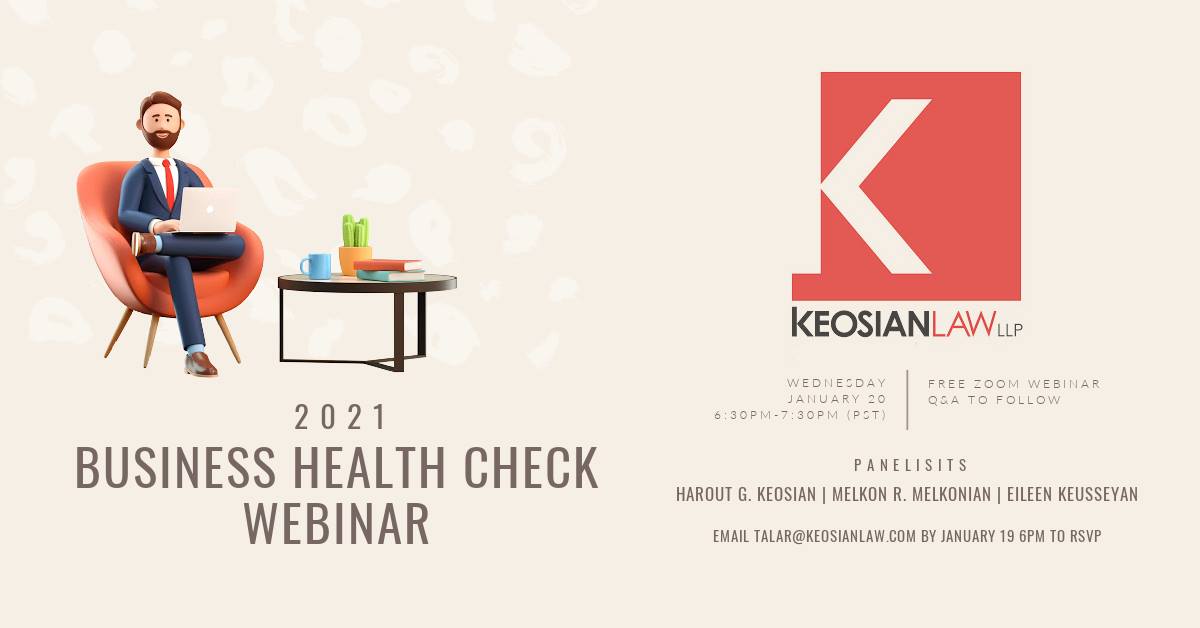 2021 Business Health Check Webinar
WEDNESDAY, JANUARY 20, 2021 AT 6:30 PM PST – 8 PM PST
A Free Webinar on Zoom
The world pandemic coronavirus (COVID-19) spread has forced businesses to adapt and change rapidly in the face of new and challenging circumstances. During this webinar, panelists will discuss common hurdles and ways to protect your business from liability.
Wednesday, January 20, 2021 – 6:30PM – 7:30PM (PST)
Q&A Session to follow
Panelists:
Harout G. Keosian
Melkon R. Melkonian
Eileen Keusseyan
Email talar@keosianlaw.com by January 19, 2021 6PM PST to RSVP.
All entrepreneurs and business owners (Sole Proprietorship, Corporations, LLC's, and Partnerships) are welcome to join.
The discussion will explore:
– Business Structures and Yearly Maintenance;
– Protecting Your Business from Liability – Employment Issues, Contracts, and Safeguarding your future;
– Having the Right Insurance Policy.