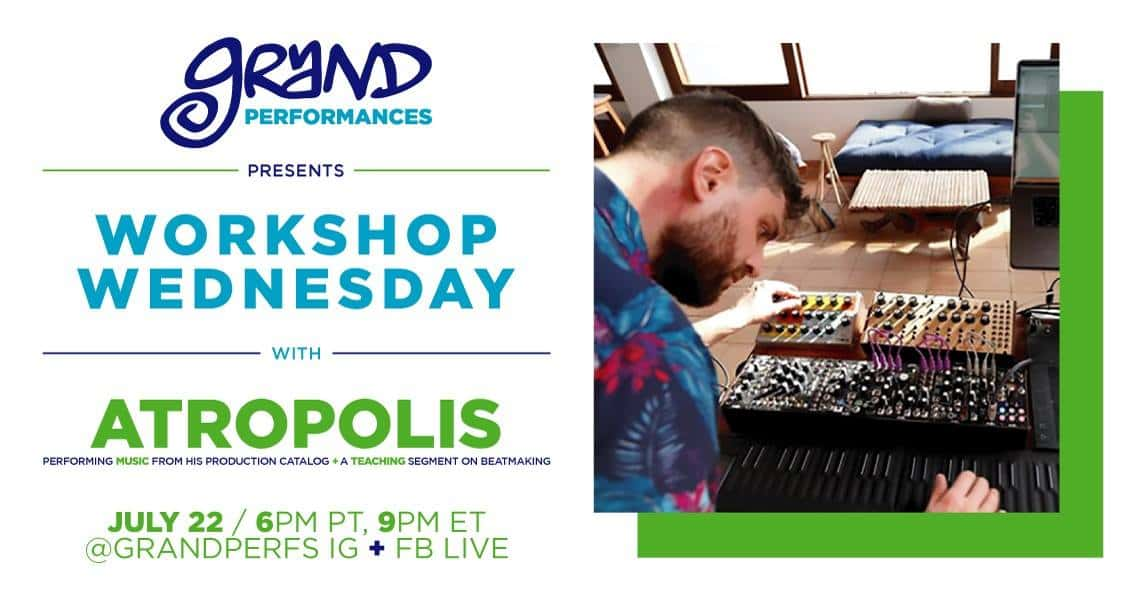 Workshop Wednesday with Atropolis Live | July 22nd at 6pm PT
Join us for a one-hour performance from Atropolis along with a segment teaching beat making. We'll be going live on Wednesday, July 22nd here on Facebook and Instagram (@grandperfs) at 6pm PT/ 9pm ET.
About the Artist:
Grand Performances (GP) collaborates with music producer Atropolis for the latest installment in its Artist Takeover series. Known for combining international styles of music with a diverse range of contemporary electronic genres, his live performance and workshop session will air on GP's Facebook and Instagram Live. As a certified Ableton Live trainer, he will also offer demonstrations of the music software along with advice for aspiring producers. His hybrid setup incorporates top of the line analog outboard gear that implements soulful elements into its digital productions.
Adam Partridge aka Atropolis is a music producer and mixing engineer from New York. With a background in ethnomusicology and music composition, Partridge has crafted tracks inspired by an array of cultures including South Africa, India, Mexico, and his own Greek-Cypriot heritage. As a producer, he created an official remix for Grammy Award-winning artist Celia Cruz's track, "Todos Somos Iguales." Commissioned by the Queen's Museum, he also collaborated with DJ Ushka for Mel Chin's exhibition, "All Over The Place."
With placements for Bacardi, Adidas, and Starz Network series "Power," Partridge also served as Ableton Live engineer for Hip Hop pioneer Grandmaster Flash in the summer of 2018. Trained at Northeastern University in mixing, mastering, and recording, he has hosted classes for both beginners and professional artists including members of Major Lazer and TV on the Radio at Dubspot NYC.
Join us here on Facebook Live & on Instagram Live (@Grandperfs) https://www.instagram.com/grandperfs/
Follow Atropolis:
Instagram: https://www.instagram.com/atropolis/
Facebook: https://www.facebook.com/Atropolis/
Soundcloud: https://soundcloud.com/atropolis
Twitter: https://twitter.com/atropolis
Sound Mana Program: https://www.soundmana.com/
Website: https://www.atropolismusic.com/