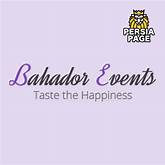 Bahador Events is a full service party planning and catering company, which has been in business for over 35 years in the greater Los Angeles area.
They have been trusted to provide services for the MTV Music Awards, Fashion Nova, Hillary Clinton, Ebi, Sattar and many more illustrious celebrities & businesses.
They provide an array of different services such as valet parking, lighting, flowers, waiter/waitress staff, rental, coordinating and last but not least, full catering service including different stations from all cuisines such as sushi and taco bar.
Contact number