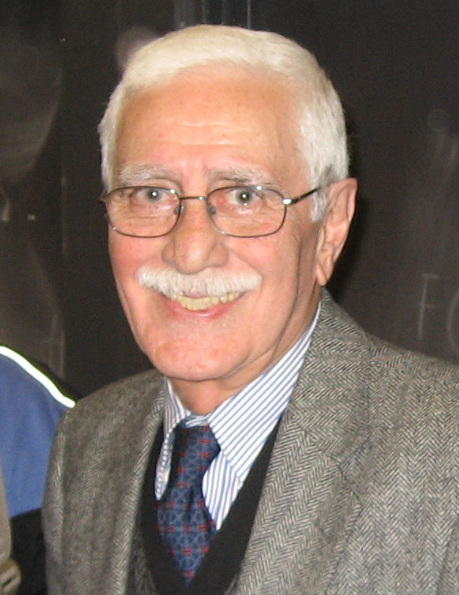 Legendary Persian writer IRAJ PEZESHKZAD passes away in exile.
Pezeshkzad is the author of the famous novel Dā'i Jān Napoleon
Iraj Pezeshkzad was born in Tehran, Iran in 1928. He was educated in 
Iran
 and France, where he received his degree in Law. He served as a judge in the Iranian Judiciary for five years prior to joining the Iranian Foreign Service. He served as a diplomat until the 
Iranian revolution
 in 1979, and left the Foreign Service to reside in France after the revolution, where he joined 
Shapour Bakhtiar
 and his party the 
National Movement of Iranian Resistance
 against the Islamic regime established in Iran.
He wrote many political books for the party (example: "Moroori bar vagheye 15 khordad 42, az entesharat e nehzat e moghavemat e melli e Iran, Iraj Pezeshkzad").
تسلیت به ملت ایران
پزشک‌زاد در سال ۱۳۰۶ در تهران زاده شد. پدرش حسن پزشکزاد یک پزشک و مادرش شاهزاده فکری ارشاد دختر مؤیدالممالک فکری ارشاد بود. معزدیوان فکری نیز دایی او بود. وی پس از تحصیل در ایران و فرانسه در رشتهٔ حقوق دانش‌آموخته شد و به مدت پنج سال در ایران به قضاوت در دادگستری مشغول بود. پس از آن به خدمت در وزارت امور خارجه ایران ادامه داد و آخرین سمتش مدیرکل روابط فرهنگی بود.
وی کار نویسندگی را در اوایل دهه ۱۳۳۰ با نوشتن داستان‌های کوتاه برای مجله‌ها و برگردان نوشته‌های ولتر، مولیر و چند رمان تاریخی آغاز کرد.او هنگام کار در وزارت امور خارجه، نویسنده ستون طنز «آسمون ریسمون» در مجله فردوسی نیز بود.
طنز