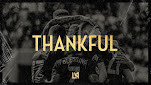 LAFC, LAFC FOUNDATION AND TARGET TO DISTRIBUTE 500 THANKSGIVING MEAL BOXES ON NOVEMBER 18
Club and Community Partners to Provide Free Holiday Meal Boxes to Families Impacted By COVID-19 Pandemic
The Los Angeles Football Club (LAFC), the LAFC Foundation and Target will host a Thanksgiving Box Donation Drive at Banc of California Stadium on Wednesday, November 18.
A continuation of the Black and Gold Fund's efforts to supports those impacted by COVID-19, members of the local community will have the opportunity to pick up turkeys and other food items to help reduce food insecurity during the holiday season.
LAFC and the LAFC Foundation will support the effort by donating the contents of the food box, which includes a turkey and fresh produce, using funds from the Black & Gold Community Fund, Target and a donation by the Qatar Embassy. Additionally, LAFC is donating 500 turkeys to community partners American Heart Association, Watts Empowerment Center and South LA Café, extending the Club's reach during the giving season.
Presenting partner Target will be gifting tote bags and gift cards for each family, in addition to Club partners BODYARMOR and CLIF Bar, who will include donated product for each bag. LAFC Partner Panda Express will donate lunch for the 50 volunteers that will be distributing the boxes throughout the day.
This is a ticketed event. Food box recipients have been previously registered and selected by the organizers.
WHAT:
LAFC, LAFC Foundation and Target to Distribute 500 Thanksgiving Meal Boxes
WHEN:
Wednesday, November 18
TIME:
Setup & Packaging: 7:30 a.m. – 9:00 a.m. PT
Food Distribution: 9:00 a.m. – 12:00 p.m. PT
WHERE:
Banc of California Stadium
Christmas Tree Lane
3939 S Figueroa St
Los Angeles, CA 90037
MEDIA PARKING:
Media can park free of charge in the Gold/VIP Lot, located on the southwest side of the stadium.
SOCIAL DISTANCING and OTHER HEALTH GUIDELINES
WILL BE OBSERVED
Los Angeles Football Club
818 W. 7th Street, Ste 1200
Los Angeles, CA 90017
LAFC.com