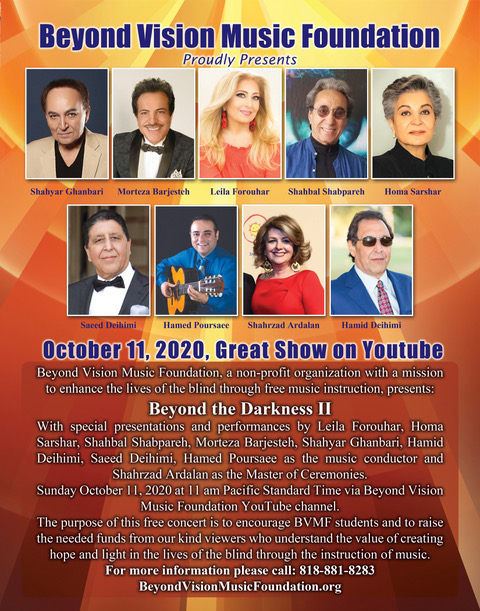 Please do not forget to join us on October 11, 2020  @11 AM Pacific Standard Time via Beyond Vision Music Foundation YouTube Channel.
Beyond Vision Music Foundation, a non-profit Organization with a mission to enhance the lives of the blind through free Music instruction presents:
Beyond the Darkness II
For more information please call 818-881 8283
Music therapy is a psychological form of therapy at its heart. It's an important outlet for the blind to enhance their communication skills and express their feelings by interacting through music. We have found that for people with visual impairments, sound and music can be a very important way of experiencing the world. Our students often have a close and powerful relationship with music, and our curriculum offers different ways for the blind to express themselves through music.
BVMF offers many classes and programs to meet the abilities and interests of our blind and visually impaired students.
Some of the many programs we offer include:
Braille music reading, ear training & solfege
Private lessons in piano, violin, guitar, dance, and singing & voice training
Group practices in all these disciplines for social enrichment
Student counseling
Monthly meetings with a counselor to evaluate student needs, problems and concerns
Quarterly social events such as recitals or concerts designed for students to perform for others
Teacher training workshops. These are professional teacher workshops in the special needs of blind students. The information and skills provided will enable teachers to successfully integrate blind music students into existing music classes
An intern program to train selected students to be assistants in the classrooms. Such workshops are designed to educate some students ready for their career advancement as music instructors to aid their peers.