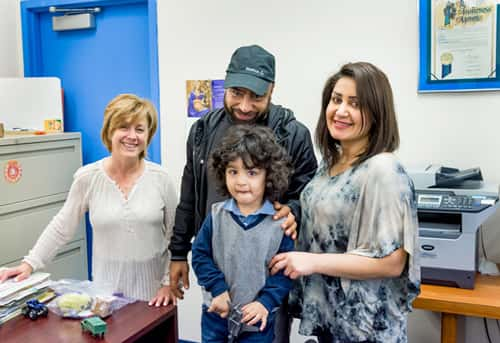 100 Years of Compassion: Catholic Charities of Los Angeles, 1919-2019
As Catholic Charities celebrates 100 Years of Providing Help and Creating Hope for the poor and vulnerable in the three-county area of Los Angeles, Ventura and Santa Barbara, it is appropriate to reflect on the birth and growth of the agency.
The various Catholic charitable groups that were providing services throughout the city of Los Angeles were formally organized by Most Rev. John J. Cantwell, Bishop of the Diocese of Monterey and Los Angeles, as the Associated Catholic Charities in 1919.
It became the Bureau of Catholic Charities in 1921 and linked all Catholic activities with State, County and City departments, institutions and agencies. The organization was named the Catholic Welfare Bureau of the Diocese of Los Angeles-San Diego in 1926 when Monterey and Fresno split off to form a Diocese.
In 1936, the Diocese of Los Angeles-San Diego was formally elevated to become the Archdiocese of Los Angles, and San Diego became a separate Diocese. The Catholic Welfare Bureau was incorporated in the State of California in 1937. Among the member agencies were Catholic Youth Organization (CYO) and Confraternity of Christian Doctrine (CCD).
Catholic Charities is committed to manifesting Christ's spirit by collaborating with diverse communities, providing services to the poor and vulnerable, promoting human dignity, and advocating for social justice.
Through the power of the Holy Spirit, Catholic Charities of Los Angeles commits to serve the vulnerable and to strive for a just society.
Assist Immigrants & Refugees
آیا می خواهید تمام وامکانات و مزایای شهروندی(سیتی زن شیپ) را داشته باشید؟
ما می توانیم به شما  کمک کنیم.
اقدام برای شهروندی از طریق این سازمان و کارکنان متخصص آن که به زبان های مختلف ازجمله اسپانیایی، عربی، فارسی و ارمنی
             صحبت می نمایند، کار را برای شما آسانتر می نماید.
شنبه 23 نوامبر 2019 ساعت9:00  صبح تا 2:00 بعد از ظهر

St. Garabed Arm. Apostolic Church

1614 N. Alexandria Ave. Los Angeles, CA 90027

                             (Hollywood area)

       وقتی شهروند ایالات متحده هستید این امکانات را برای شما فراهم می باشد:  در رای گیری و انتخابات شرکت کنید ، سفر با محدودیت کمتر داشته باشید و نیز برای پیوند مجدد اعضای خانواده اقدام  نماید .
برای تعیین وقت قبلی لطفا با ما با شماره های ذیل تماس حاصل فرمایید.
213 318-5729- 213 318-5713
Catholic Charities began providing immigration assistance during World War II, when refugees sought safety on American shores. Today, most clients seeking immigration services are coming from Afghanistan, Central America, Iran, Iraq, Mexico and Syria.
Services are structured to assist newly-arrived immigrants in learning English, obtaining education, navigating legal matters and training for jobs that will provide, at least, a living wage.  American social norms are taught as well. These programs have a proven track record of helping immigrants transition and contribute to society.
Programs:
Esperanza Immigrant Rights Project
Immigration Services
Refugee Resettlement
Temporary Skilled Worker Center