Employment and labor law

Address:
500 N Central Ave Suite 940, Glendale
CA 91203
Short Business Description:
MEDICAL MALPRACTIC
ELDER ABUSE
PERSONAL INJURY
EMPLOYMENT and Etc
People typically need lawyers during some of the most difficult times in their lives. Berberian Ain LLP was founded with this in mind. Our goal is to serve clients with the dedication and compassion they deserve as they look for solutions to complicated problems. While our office is located in Glendale, our personal injury attorneys serve clients throughout Los Angeles and the San Fernando Valley. We strive to provide every client with personalized service catered to their needs. As a client, you will work side-by-side with our legal team as we work towards the best possible outcome for your case.
Long Business Description:
Berberian Ain LLP is led by attorneys Richard Berberian and Farris Ain. Both of these lawyers have spent their careers serving people during times of crisis. Having dealt with many complex elder abuse, personal injury, medical malpractice, and employment issues, our team is adept at creating sophisticated litigation strategies.
Call us to schedule a free consultation: (818) 698-2554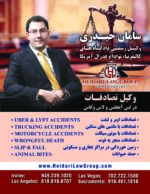 Short Business Description:


We're Here to Help

Rest assured that in all your personal injury claims, we will be there every step of the way to make sure that you get the fair and reasonable compensation for your property damage, bodily injuries, actual medical costs, future medical care, and loss of earnings, as well as the loss you have suffered in the enjoyment of your life.
Long Business Description:
Personal Injury
Traumatic Brain Injuries
Dog Bite Injuries
Slip and Fall Injuries
Head Injuries
headNerve Damage Injuries
Broken Bone Injuries
Spinal Code Injuries
Sexual Assault Injuries
Moving Accidents
Car Accidents
Lyft & Uber Accidents
Motorcycle Accidents
Trucking Accidents
Airplane Accidents
Metro Bus Accidents
Bicycle Accidents
Train Accidents
Other Accidents
Slip and Fall Accidents
Dog Bite Accidents
Pedestrian Accidents
Premises Liability
Construction Liability
Employment Law
Wrongful Termination
Workplace Retaliation
Workplace Harassment
Civil Rights
Police Brutality
Police Misconduct
Other
Medical Malpractice
Product Liability
Insurance Bad Faith
Negligient Security
HIPAA Violations
Data Privacy Breach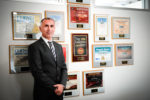 Address:
Address: 510 Arizona Ave, Santa Monica
CA 90401
Short Business Description:
If you are involved in any type of traffic accident or animal attack, it is in your best interest to hire an experienced personal injury lawyer from Mesriani Law Group to get the best possible compensation at the swiftest possible time. Similarly, if you are among those who are victims of employment discrimination or wrongful termination, our expert employment law attorneys in Los Angeles will make sure your employer pays a high price for his or her misdemeanor.

Get a free legal consultation today and avail of our services to enjoy our No Win No Fee Policy.
Long Business Description:
Mesriani Law Group (MLG) is a one-stop shop legal service provider that houses skilled and accomplished attorneys in Los Angeles. For over two decades, MLG has consistently provided superior legal aid to all victims of personal injury and employment and labor law violations. Our law firm is led by Rodney Mesriani, a highly respected litigator and well-known aggressive negotiator of personal injury and labor law concerns. Together with the most highly motivated and conscientious lawyers in California, Mesriani Law Group has won hundreds of millions in claims for damages to our clients' satisfaction.
Our personal injury lawyers specialize in a variety of fields, including car accidents, medical malpractice, work injuries, wrongful death, and more. Likewise, our employment law attorneys boast great expertise in handling cases involving workplace discrimination, sexual harassment, and other offenses. With our resources,experience, and knowledge of California labor laws, you are guaranteed top-notch legal service that will win your case even in the most serious personal injury accidents or unjust treatment in the workplace.