Construction, Remodeling & Repair
Long Business Description: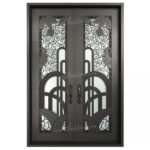 Address:
11676 Tuxford Street, Unit #1, Sun Valley,
CA 91352
Long Business Description:
Iron Doors
Custom Wrought Iron Entry Doors
Universal Iron Doors carries one of the largest selections of decorative wrought iron front doors available anywhere. You're guaranteed to find a wrought iron door in our collection that fits the style and aesthetic of your home.
Your home is a representation of your style and personality. Our artisanal single or double custom wrought iron front entry doors reflect your taste while boosting your home's curb appeal and value. And, the durable construction of our wrought iron security doors adds an additional layer of protection for your home or commercial building.
Home/Iron Doors