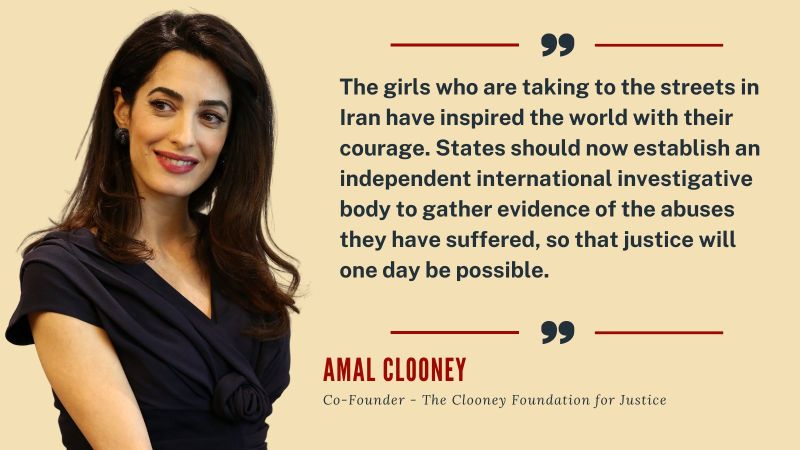 JUSTICE FOR IRANIAN PROTESTERS MEANS GATHERING EVIDENCE BEFORE IT IS LOST
An independent investigation into ongoing human rights violations in Iran is essential to ensure the people abused, killed, and detained during recent protests in the country see justice, the Clooney Foundation for Justice said today.
As Iran enters its third month of civilian protests, the UN Human Rights Council (HRC) is preparing to vote on whether to establish an independent international investigation to gather evidence of human rights violations in the country. It would be the first UN body of its kind on Iran and an essential step towards ensuring perpetrators are held responsible for their abuses.
The HRC's decision to hold a Special Session on November 24 to address "the deteriorating human rights situation in the Islamic Republic of Iran" is a step in the right direction, but it needs to be followed by concrete steps towards accountability, CFJ said.
"The girls who are taking to the streets in Iran have inspired the world with their courage," said Amal Clooney, co-founder of the Clooney Foundation for Justice. "States should now establish an independent international investigative body to gather evidence of the abuses they have suffered, so that justice will one day be possible".
"We've learned time and time again that accountability can't wait,' said Yasmine Chubin, Legal Advocacy Director of CFJ's Docket initiative. "The protesters in Iran, led by women and girls, have shown incredible bravery in their resolve to secure their basic human rights. Now HRC member states must pass this resolution to investigate the daily violence Iranian civilians are enduring and collect, analyze, and preserve evidence of these violations. Gathering and preserving evidence in real-time will help support future legal proceedings against perpetrators of human rights abuses in the country."
The protests in Iran were sparked by the death in police custody of 22-year-old Mahsa Amini on 16 September 2022, who had been arrested for allegedly violating the country's strict hijab rules. Meanwhile, the Islamic Republic's forces are reportedly continuing a campaign of unlawful killings, including of children, sexual violence against women and girls and arbitrary arrests of thousands of protesters.
"Today, [we are] watching on our screens what's happening in Iran … a protest movement being led by girls in school uniforms who are facing off against a regime that is using force to torture and kill," said Amal Clooney, speaking earlier this month at an event hosted by The Obama Foundation.
"And they're still determined, because if they're not the ones on the front lines, they can't rely on others for change. I think that's incredible. [And] I think it gives us perspective. If girls like that can risk everything to just be free to show their hair and have … basic freedoms, then we can all do more from where we're sitting."
Credit to : Clooney Foundation for Justice
@AMALCLOONEY