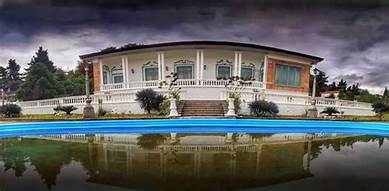 کاخ چای‌خوران از بناهای مربوط به دوره پهلوی اول است و در جنوب میدان معلم چالوس و در محوطه کاخ واقع شده است.
این اثر در تاریخ ۲۶ اسفند ۱۳۵۳ با شمارهٔ ثبت ۱۰۴۵ به‌عنوان یکی از آثار ملی ایران به ثبت رسیده است.
این بنا در محوطه‌ای به وسعت حدود ۴۰۰۰ متر مربع و در یک طبقه و زیرزمین ساخته شده است.
دو ورودی اصلی بنا در ضلع‌های شرقی و غربی واقع هستند و فضاهای داخلی ساختمان از دو بخش اصلی و خدماتی تشکیل شده است که توسط راهروی میانی به هم متصل شده‌اند.
بخش اصلی این بنا شامل بالکن ستون‌دار شمالی و دو تالار مربع شکل در قسمت جنوبی و یک تالار مستطیلی در جهت شمالی-جنوبی می‌باشد که با تزئینات زیبای گچ‌بری مزین شده است.
این بنا در حال حاضر بازسازی شده است و کاربری رستوران و کافی‌شاپ دارد.
Chalous Tea House
Chaykhooran Palace is one of the buildings related to the first Pahlavi period and is located in the south of Moallem Chalous Square and in the palace grounds.
This work was registered as one of the national works of Iran on March 17, 1974 with the registration number 1045.
This building is built in an area of ​​about 4000 square meters and on one floor and basement.
The two main entrances of the building are located on the east and west sides and the interior spaces of the building consist of two main parts and services that are connected by a middle corridor.
The main part of the building includes a north columned balcony and two square-shaped halls in the southern part and a rectangular hall in the north-south direction, which is decorated with beautiful plaster decorations.
The building has now been renovated and is used as a restaurant and coffee shop.