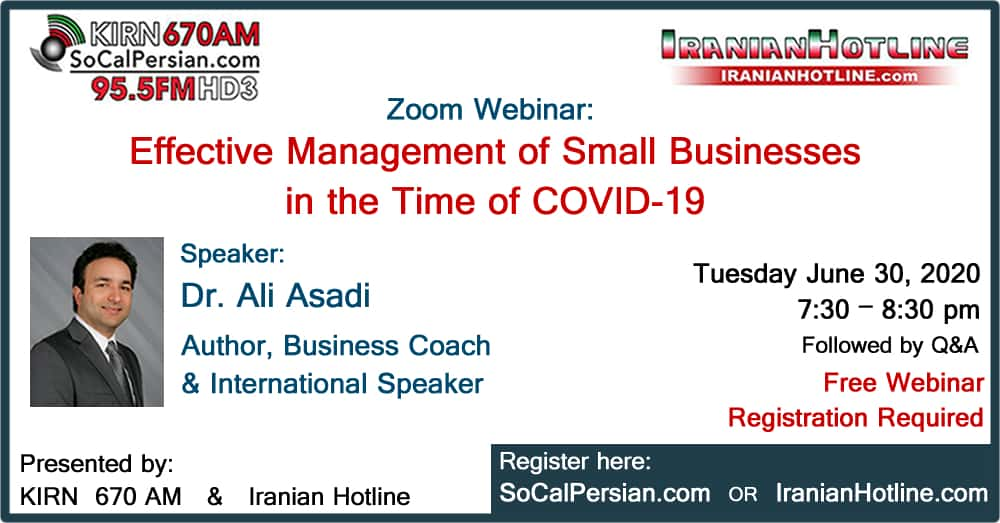 An Informative  Webinar:
Effective Management of Small Businesses in the Time of COVID-19
Tuesday June 30, 2020
7:30 – 8:30 pm
Followed by Q&A
Speaker: Dr. Ali Asadi
Presented by:
KIRN  670 AM & Iranian Hotline
Join Dr. Ali Asadi, author, business coach & international speaker, as he will share valuable information on:
How to Manage a Small Business in the Time of Coronavirus
The Coronavirus has affected many businesses across the US and the globe. Cancellations and closings along with operational shifts to provide social distancing are coming fast and furious. By gaining new knowledge and applying new tools and techniques you'll do better in managing your business and securing your profession.

Join us & learn:
1. Why do most small businesses fail? and how can you prevent it?
2. How to set a S.Y.S.T.E.M (Save. Yourself. Stress. Time. Efforts. Money) for your business.
2. How to make effective changes to your business .
3. How to apply risk management for your business.
4. How to improve your skills to manage your business effectively.
Registration is required to receive the meeting ID for this free webinar
https://www.socalpersian.com/socalpersian-vip-sign-up/
OR
Please Click:
www.socalpersian.com or www.Iranianhotline.com
Bio of Dr. Ali Asadi:
Dr. Ali Asadi is an author, business coach and international speaker. He specializes in helping professionals achieve success in today's highly competitive business environment. A well-respected entrepreneur who has written over 10 books and e-books purchased by professionals and success seekers in many countries; Ali's wisdom on the many business topics is widely acclaimed.
1000 Tips and Tools for Small Business Success is a compact, informative guide for small business owners and managers. Written by an expert business consultant, this handy volume provides helpful advice for all areas of managing a business. If you need answers to your HR, marketing, and operation management needs, you will find them here. If you want to be more productive, make better decisions, and even find a better business travel deal, you will find tips and tools here, and if you want good books or a smart quote, you will find it here too. Browse the book as you will, use the table of contents, flip the pages, or just open at a random page. You will find something you will need—something you did not know before.