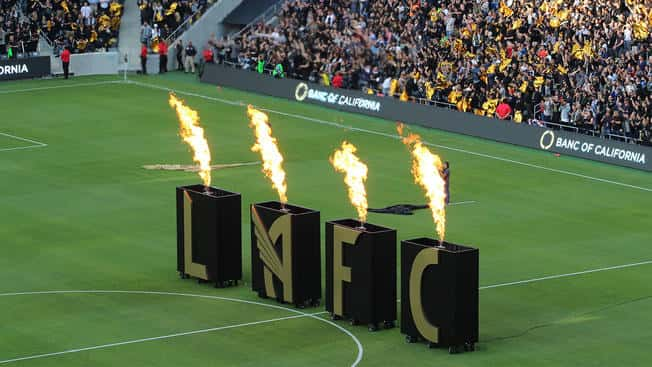 LAFC ANNOUNCES ROSTER MOVES FOLLOWING RECORD-BREAKING SEASON
The Los Angeles Football Club (LAFC) announced today the roster moves for the 2020 MLS season. LAFC currently has 18 players under contract after exercising four player options and declining four options for next year.
The Black & Gold have exercised 2020 contract options on defenders Tristan Blackmon and Mohamed El-Munir, and forwards Adrien Perez and Josh Pérez. The Club also declined the options of defenders Lamar Batista and Dejan Jaković, and midfielders Javier Perez and Peter-Lee Vassell.
Defenders Steven Beitashour and Jordan Harvey will be out of contract and are eligible for free agency, which begins November 25 at 12:00 pm PT. The Club also extended a bona fide offer to goalkeeper Tyler Miller, retaining his rights and making him ineligible for the upcoming MLS Re-Entry Draft. The Club is engaged in contract negotiations with several out-of-contract players.
Earlier this week, midfielder Lee Nguyen was selected by Inter Miami CF with the team's third selection in the 2019 Expansion Draft. Additionally, the loan agreement for goalkeeper Phillip Ejimadu has expired, and Ejimadu will return to Nacional Atlético Clube.
The MLS End-of-Year waivers process begins on November 25, and Stage 1 of the MLS Re-Entry Draft is November 26 and Stage 2 is set for December 3.  
Following a record-breaking season that saw LAFC secure the 2019 Supporters' Shield after setting a new all-time points record, the Club has 18 players under contract for the 2020 campaign, including: goalkeeper Pablo Sisniega, defenders Tristan Blackmon, Mohamed El-Munir, Diego Palacios, Eddie Segura, Danilo Silva and Walker Zimmerman, midfielders Eduard Atuesta, Latif Blessing, Alejandro Guido and Mark-Anthony Kaye, and forwards Adama Diomande, Adrien Perez, Josh Perez, Brian Rodriguez, Diego Rossi, Carlos Vela, and Rodolfo Zelaya.
Current Los Angeles Football Club Roster
Goalkeepers: Pablo Sisniega
Defenders: Tristan Blackmon, Mohamed El-Munir, Diego Palacios, Eddie Segura, Danilo Silva, Walker Zimmerman
Midfielders: Eduard Atuesta, Latif Blessing, Alejandro Guido, Mark-Anthony Kaye
Forwards: Adama Diomande, Adrien Perez, Josh Pérez, Brian Rodriguez, Diego Rossi, Carlos Vela, Rodolfo Zelaya
Los Angeles Football Club
818 W 7th Street #1200
Los Angeles, CA 90017
(213) 519-9900
LAFC.com