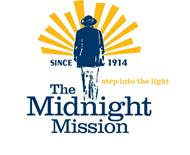 NOWRUZ 2020 AT THE MIDNIGHT MISSION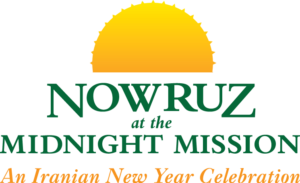 On Friday, March 27 th, 2020, from 3:00 pm to 5:30 pm the Iranian community will once again partner with The Midnight Mission to host a special celebration of Nowruz for over 2,000 homeless men, women, and children.
Nowruz at The Midnight Mission is a one-of-a-kind special event for the Iranian New Year. On this day, streets surrounding The Midnight Mission will be closed and dressed with flags and banners to create a festive atmosphere. Dinner tables will be set up to serve a traditional Nowruz meal and delicacies.
On a special stage setup for this event, notable Iranian-American performers and dance ensembles will present traditional Iranian music and dance. Dignitaries and event sponsors will be present to lend their support.
Nowruz at The Midnight Mission is an opportunity to not only showcase Iranian culture through traditional song and dance, but to show how Iranian Americans are giving back to Los Angeles through caring for the less fortunate.
Please make a generous donation to Nowruz at the Midnight Mission and become part of the volunteer team serving Persian-style food and distributing gifts of clothing (Eydi) to homeless and hungry individuals and families. If you are a business owner, please consider the many benefits of becoming a corporate sponsor.
Nowruz at the Midnight Mission is an event that both shares the beautiful Iranian cultural traditions with the community at large and at the same time highlights the philanthropy of the Los Angeles Iranian community.  Your generous contribution also provides homeless men, women, and children with life's most basic needs: food, shelter and health.
Abbas Satrap, Nowruz Committee Chair
Ali Razi, Vice Chairman, Board of Directors Midnight Mission
For more information contact:
Katya Askar, Manager of Institutional Giving
(213) 553-2328 or kaskar@midnightmission.org
 Event Sponsorship
Gold Sponsorship ($20,000)
Sponsor name incorporated into name of the event
Opportunity for onstage presentation speech
Name and logo most prominently displayed on main
stage banner
Name and logo most prominently displayed on sponsor
banner in volunteer area
Name and logo on any electronic and printed event
promotional materials
E-Blast sent to 33,000 Midnight Mission subscribers
after the event with your logo thanking all the
sponsors
Name and logo featured on The Midnight Mission's
Nowruz event web page with hyperlink
On-air recognition on KIRN radio
Opportunity for up to 20 employees or valued
customers to volunteer at the event
Silver Sponsorship ($10,000)
Name and logo displayed on main stage banner
Name and logo displayed on sponsor banner in
volunteer area
Name and logo on any electronic and printed event
promotional materials
E-Blast sent to 33,000 Midnight Mission subscribers
after the event with your logo thanking all the
sponsors
Name and logo featured on The Midnight Mission's
Nowruz event web page with hyperlink
On-air recognition on KIRN radio
Opportunity for up to 15 employees or valued
customers to volunteer at the event
Silver Sponsorship ($10,000)
Name and logo displayed on main stage banner
Name and logo displayed on sponsor banner in
volunteer area
Name and logo on any electronic and printed event
promotional materials
E-Blast sent to 33,000 Midnight Mission subscribers
after the event with your logo thanking all the
sponsors
Name and logo featured on The Midnight Mission's
Nowruz event web page with hyperlink
On-air recognition on KIRN radio
Opportunity for up to 15 employees or valued
customers to volunteer at the event
Bronze Sponsorship ($5,000)
Name and logo displayed on sponsor banner in
volunteer area
Name and logo on any electronic and printed event
promotional materials
E-Blast sent to 33,000 Midnight Mission subscribers
after the event with your logo thanking all the
sponsors
Name featured on The Midnight Mission's Nowruz
event website with hyperlink
Opportunity for up to 5 employees or valued
customers to volunteer at the event
Table Sponsorship ($2,500)
Name displayed on sponsor banner in volunteer area
E-Blast sent to 33,000 Midnight Mission subscribers
after the event with your logo thanking all the
sponsors
Name featured on The Midnight Mission's Nowruz
event website
Opportunity for up to 10 employees, valued
customers, family members or friends to volunteer
at the event
Table Sponsorship  ($2,500)
Name and logo displayed on sponsor banner in
volunteer area
Name and logo on any electronic and printed event
promotional materials
E-Blast sent to 33,000 Midnight Mission subscribers
after the event with your logo thanking all the
sponsors
Name featured on The Midnight Mission's Nowruz
event website with hyperlink
Opportunity for up to  5 employees or valued
customers to volunteer at the event
Individual Sponsorship ($1,000)
Name featured on The Midnight Mission's Nowruz
event website

Opportunity for up to 5 family members or friends to
volunteer at the event