SEEB MAGAZINE SHOW (مجله پزشکی سیب)


SEEB Medical Magazine starts a new live radio show on Radio Iran 670 AM KIRN. The program broadcasts on the first Sunday of each month from 1 to 2 pm. Please join us to listen to our medical and health experts.
مجله سیب
برنامه یکشنبه ۶ ماه ژويیه  ساعت ۱ بعدازظهر
با حضور دکتر زهرا ازاد بادی
متخصص مهمان دکترساره بهزادی پور

دکتر روانشناس
The radio live show on 670 AM, KIRN, SEEB MAGAZINE on  Sunday, June 6,  2021 @ 1:00 PM.
Dr.Zahra Azadbadi would be hosting Dr. Sareh Behzadipour, Psycologist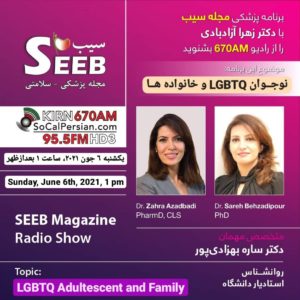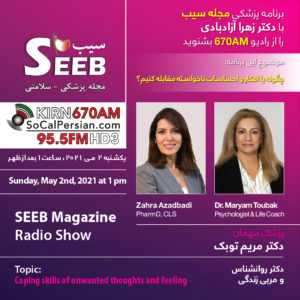 مجله سیب
برنامه یکشنبه ۲ ماه  می   ساعت ۱ بعدازظهر
با حضور دکتر زهرا ازاد بادی
متخصص مهمان دکتر مریم توبک

دکترروانشناس
The radio live show on 670 AM, KIRN, SEEB MAGAZINE on  Sunday,  May 2, 2021
@ 1:00 PM.
Dr.Zahra Azadbadi would be hosting Dr. Maryam Toubak, Psycologist & life Coach

Topic : Positive thinking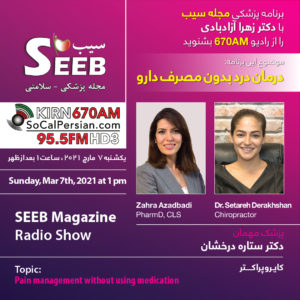 مجله سیب
برنامه یکشنبه ۷ ماه  مارس   ساعت ۱ بعدازظهر
با حضور دکتر زهرا ازاد بادی
متخصص مهمان  ستاره درخشان

کاریوپرکتر
موضوع:
درمان درد بدون استفاده از دارو
The radio live show on 670 AM, KIRN, SEEB MAGAZINE on  Sunday,  March  7, 2021
@ 1:00 PM.
Dr.Zahra Azadbadi would be hosting Dr. Setareh Derkhshan, Chiropractor

Topic : Pain management without using Medication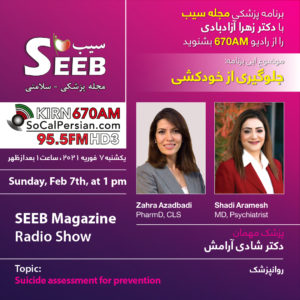 مجله سیب
برنامه یکشنبه ۷ ماه   فوریه   ساعت ۱ بعدازظهر
با حضور دکتر زهرا ازاد بادی
متخصص مهمان  شادی ارامش

روانپزشک
The radio live show on 670 AM, KIRN, SEEB MAGAZINE on  Sunday,  February  7, 2021
@ 1:00 PM.
Dr.Zahra Azadbadi would be hosting Dr. Shadi Aramesh
Topic : Suicide assessment for prevention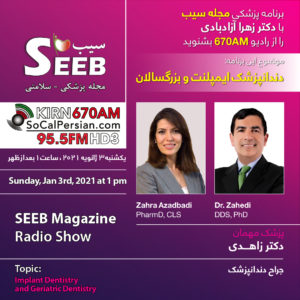 مجله سیب
برنامه یکشنبه ۳ ماه  ژانویه  ساعت ۱ بعدازظهر
با حضور دکتر زهرا ازاد بادی
متخصص مهمان دکتر زاهدی
The radio live show on 670 AM, KIRN, SEEB MAGAZINE on  Sunday,  January  3, 2021
@ 1:00 PM.
Dr.Zahra Azadbadi would be hosting Dr. Zahedi DDS , PHD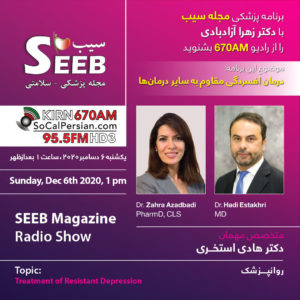 مجله سیب
برنامه یکشنبه ششم ماه دسامبر ساعت ۱ بعدازظهر
با حضور دکتر زهرا ازاد بادی
متخصص مهمان دکتر هادی استخری
The radio live show on 670 AM, KIRN, SEEB MAGAZINE on  Sunday,  December 6, 2020
@ 1:00 PM.
Dr.Zahra Azadbadi would be hosting Dr. Hadi Estakhri
Topic :Treatment of Resistant Depression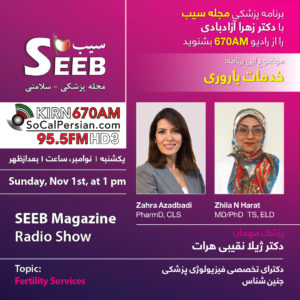 مجله سیب
برنامه یکشنبه اول
ماه نوامبرساعت ۱ بعداظهر بوقت غرب آمریکا،
با حضور دکتر زهرا ازاد بادی
و
پزشک مهمان دکترژیلا نقیبی هرات
The radio live show on 670 AM, KIRN, SEEB MAGAZINE on  Sunday,  November 1st, 2020
@ 1:00 PM.
Dr.Zahra Azadbadi would be hosting Dr. Zhila Naghibi Harat
Topic :Fertility  Services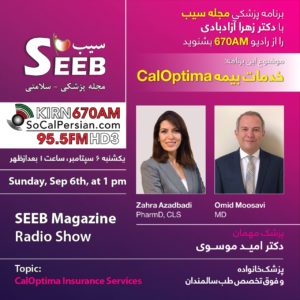 مجله سیب
برنامه یکشنبه
ششم ماه سپتامبرساعت ۱ بعداظهر بوقت غرب آمریکا،
با حضور دکتر زهرا ازاد بادی
پزشک مهمان دکترسپتامبر
امید موسوی
The radio live show on 670 AM, KIRN, SEEB MAGAZINE on  Sunday,  September 6, 2020
@ 1:00 PM.
Dr.Zahra Azadbadi would be hosting Dr. Omid Mosavi
Topic :CalOptima isurance Services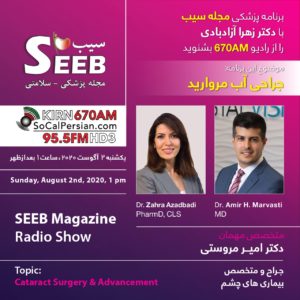 مجله سیب
برنامه یکشنبه دوم ماه اگوست ساعت ۱ بعداظهر بوقت غرب آمریکا،
با حضور دکتر زهرا ازاد بادی
پزشک مهمان دکتر امیر مروستی
The radio live show on 670 AM, KIRN, SEEB MAGAZINE on  Sunday,  August  2, 2020
@ 1:00 PM.
Dr.Zahra Azadbadi would be hosting Dr. Amir Marvesti
Topic : Cataract Surgery and Advancement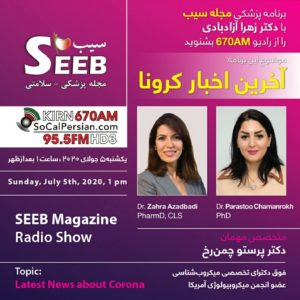 مجله سیب
برنامه یکشنبه   پنجم ماه جولای ساعت ۱ بعداظهر بوقت غرب آمریکا
با حضور دکتر زهرا ازاد بادی
پزشک مهمان دکتر پرستو چمن رخ

موضوع این برنامه :
      آخرین خبرها و اطلاعات مربوط به ویروس کوید_19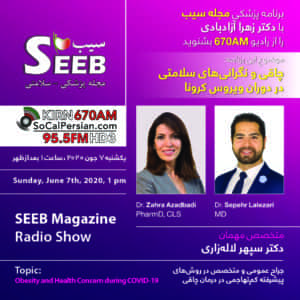 مجله سیب
برنامه یکشنبه  هفتم ماه  جون ساعت ۱۲ بعدازظهر
با حضور دکتر زهرا ازاد بادی
پزشک مهمان دکتر سپرلاله زاری
موضوع این برنامه : مشکلات چاقی ونگرانیهای سلامتی در دوران ویروس کرونا
The radio live show on 670 AM, KIRN, SEEB MAGAZINE on  Sunday, June 7th
@ 1:00 PM.
Dr.Zahra Azadbadi would be hosting Dr. Sepehr Lalehzari
Topic : Obesity and Health conern during Covid-19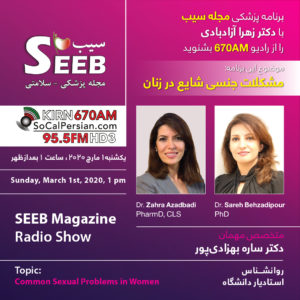 Part (1)
https://www.youtube.com/watch?v=0CKVn2a6AsA
Part (2)
https://www.youtube.com/watch?v=T5VxlktyYU4
The radio live show on 670 AM, KIRN, SEEB MAGAZINE on March Sunday 1st @ 12:00 PM.
Dr.Zahra Azadbadi would be hosting Dr. Sareh Behzadi Pour
Topic : Common Sexual Problems in Women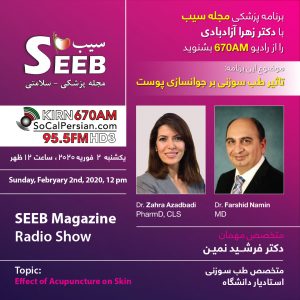 https://www.youtube.com/watch?v=mOWmcMNve44
مجله سیب
برنامه ۲ فوریه ساعت ۱۲ بعدازظهر
با حضور دکتر زهرا ازاد بادی
پزشک مهمان دکتر فرشید نمین
موضوع این برنامه : تاثیر طب سوزنی بر جوانسازی پوست
The radio live show on 670 AM, KIRN, SEEB MAGAZINE on February 2nd @ 12:00 PM.
Dr.Zahra Azadbadi would be hosting Dr.Farshid Namin MD
Topic : Effect of Acupuncture on Skin