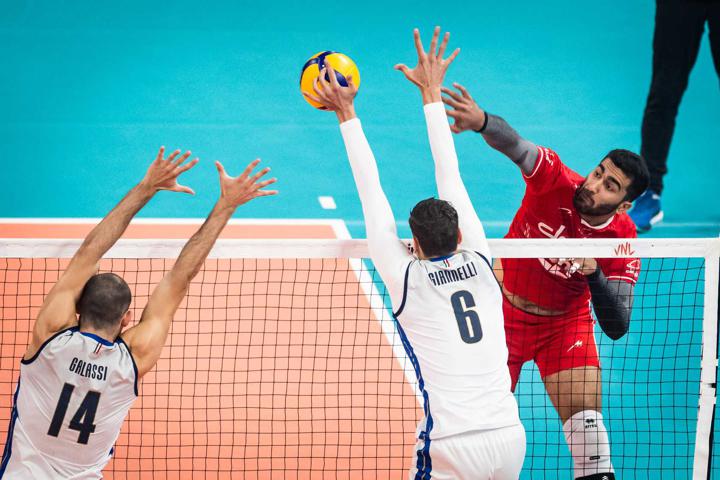 Volleyball Nations League: Team Iran to Battle Top Teams at
Prestigious Men Tournament in Anaheim, Calif.
Iran Takes Center Stage Against the World's Top Eight Countries from July 4-9
Anaheim, Calif. / Lausanne, Switzerland (May 10, 2023) – Team Iran will light up the Anaheim Convention Center when the 2023 Volleyball Nations League (VNL) descends on Southern California from July 4 – 9, 2023. Currently ranked No. 10, Team Iran will take on the world's eight best teams in Week 3 of the Men's VNL tournament, which will also include event hosts – the United States, Olympic gold medalist France, bronze medalist Argentina, European power houses Bulgaria, Germany and Serbia, and newly promoted challenger Cuba.
To date, the Iranians have played in all four VNL editions, making it to the Finals in 2019 and 2022, and achieving their best finish of fifth place overall in 2019.
In the midst of seekingtheir third Finals appearance, the Iranian team faces strong opposition in Pool
Their first mission in Anaheim is against VNL defending champions Team France on July 4 at 16:30 (local time), followed by Bulgaria on July 6 at 20:30, Argentina on July 8 at 17:00 and Cuba on July 9 at 13:30.
Leading the team in Anaheim is Captain Seyed Mohammad Mousavi, one of the brilliant architects of Iran's strong continental Volleyball reign and rising world status in the last decade. He helped Iran gain its best results in its Volleyball history, highlighted by its two Olympic appearances and a bronze at the 2017 FIVB World Grand Champions Cup, in addition to four Asian Championship trophies, two Asian gold medals and three Asian Cup titles.
Behrouz Ataei is at the helm of Iran's team and will be working with captain Mousavi and veteran Masoud Gholami to guide up-and-comingstars Amin Esmaeilnezhad, Javad Karimi, Bardia Saadat, Aliasghar Mojarad, Meisam Salehi and Mohammadreza Hazratpour.
Iran is scheduled to compete in the Olympic Qualification Tournament from September 30-October 8 in Brazil. They will take on VNL Anaheim rivals Cuba and Germany, European squads Czech Republic, Italy, Ukraine, Asian rivals Qatar and hosts Brazil to clinch one of the two Paris 2024 spots available in the tournament.
A complete rundown of all participating team rosters are now available on the Volleyball Nations League 2023 Website, here.
Tickets
Tickets for one of the most highly anticipated volleyball competitions of the year is available for purchase here. For media under editorial assignment, register for Anaheim media accreditation here.
Follow VNL on social: Facebook, Twitter, Instagram, Youtube and LinkedIn. Watch all Volleyball World matches live or on-demand on VBTV. For all the latest VNL updates visit us here.
About Volleyball World
Volleyball World is a new partnership between the FIVB and the CVC Capital Partners aimed at driving growth, innovation, and investment in volleyball around the globe. Its goal is to create an integrated ecosystem connecting all volleyball stakeholders (fans, athletes, corporate partners) together through both digital and live events. Volleyball World is responsible for the commercial operation of key volleyball and beach volleyball international events, including: the World Championships, Volleyball Nations League, Olympic Qualifiers and Beach Pro Tour.
About Volleyball Nations League
The Volleyball Nations League (VNL) is an annual international men's and women's volleyball competition organized by Volleyball World and launched in 2018.The league features the world's top national teams competing in pools across numerous weeks in iconic cities around the world. The top teams advance to the VNL Finals which always feature fierce competition and electric crowds wowed by the very best of live volleyball action. The VNL promises to bring the best live sport to volleyball's most passionate and biggest communities.

#Iran
#Volleyball