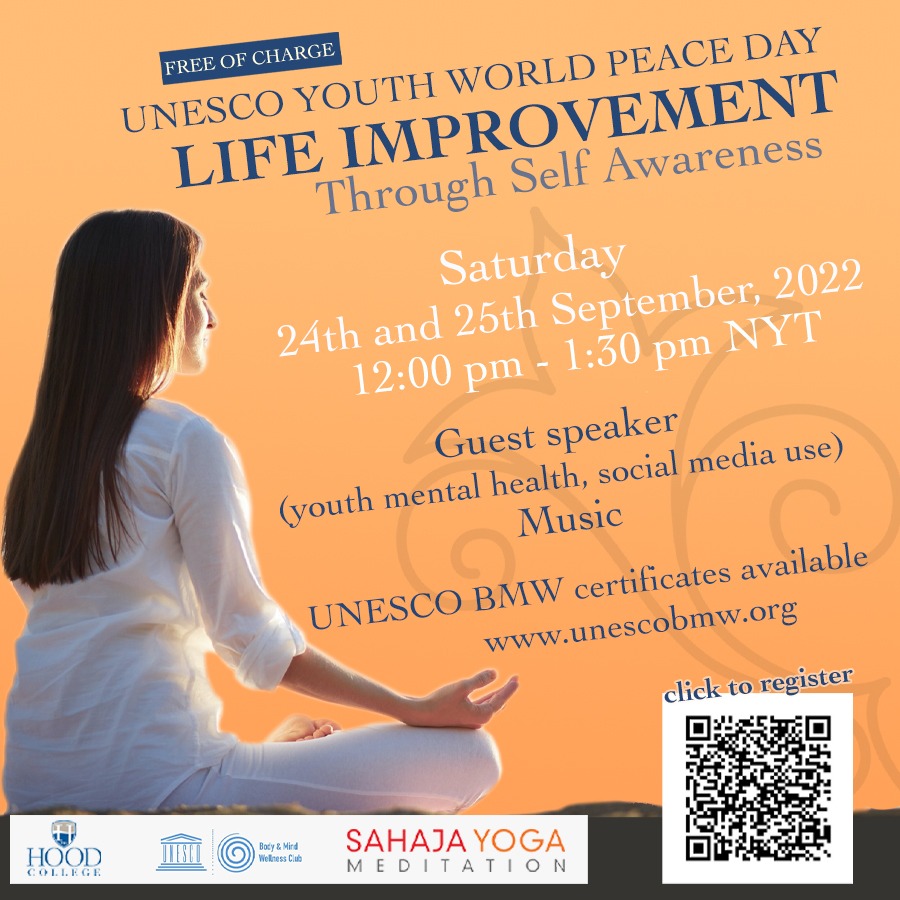 UNESCO Youth World Peace Day
UNESCO Body & Mind Wellness Club (UNESCO BMW), in collaboration with Sahaja Yoga
Meditation (SYM) and Hood College, is pleased to offer a 2-day online program entitled "Life
Improvement through Self Awareness" for this September 24 and 25 at 12:00 PM EST. We offer
a free 90-minute session for these two consecutive days in September to include college age
adults on how to monitor their inner state of being.
The vision for UNESCO Youth World Peace Day
The idea is to realize one's true potential and the resources available within, which in turn, can
particularly help youth face and solve the problems they are facing. Today's youth are
tomorrow's leaders and now is the time to act to strengthen them emotionally, mentally and
physically.
Youth Problems & Remedy Technics
In light of the unsettling reality that our youth are going through, our program will focus on
youth issues such as mental health, social media use/misuse, bullying etc. This instructional
program will be free of charge and includes an introduction to youth issues followed by a guided
inner check-in, a targeted expert guest speaker, music and a Q&A session. This program is a part
of UNESCO BMW's greater initiatives. The objective of this program is that each participant can
experience a state of mental silence as a gateway to stress relief and inner peace in order to face
everyday problems.
Benefits and follow-ups
By completing our two-day session, the benefits gained via UNESCO BMW:
 A Certificate of completion
 Potential to enhance one's resume
 Development of interpersonal relationship skills
 Build a network of like-minded Peace Ambassadors
 Have 101 weekly follow-up session with experts of the fields
 Eventual extra credit maybe available in agreement with the college!
Please register by using this link:
https://docs.google.com/forms/d/1YVHl0BgWelQtUBlwYEn-qbKygj__o2ugMJ47y7FORBM/viewform?edit_requested=true