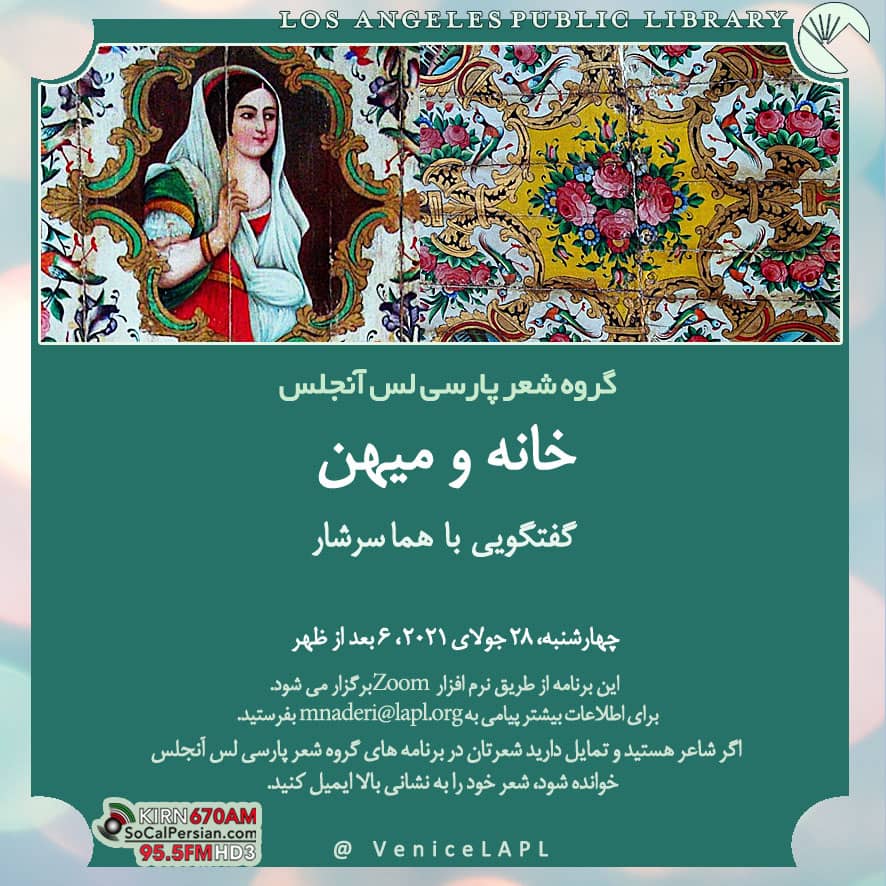 خانه و میهن در شعر پارسی
بخش نخست
چهارشنبه 28 جولای 2021، 6 بعد از ظهر
گفتگویی با هما سرشار
آیا خانه همان میهن است و میهن همان خانه؟ چه تفاوت ها و تشابه هایی میان این دو مفهوم از دیدگاه شاعران پارسی زبان وجود دارد؟ به نظر می رسد طیفی از رویکردهای گوناگون به این دو مفهوم در شعر پارسی وجود دارد که شاید بتوان یک سوی آن را خانه-میهنی نامید و دیگر سوی آن را جهان-میهنی. در این برنامه از مجموعه انجمن شعر پارسی لس آنجلس با بانو هما سرشار به گفتگو خواهیم نشست تا از تجربه زیسته ایشان به عنوان یک خبرنگار در رویارویی با این دو مفهوم بشنویم. این برنامه سرآغازی خواهد بود بر جستار شعری ما در این باره در برنامه های آتی.
این برنامه توسط کتابخانه همگانی لس آنجلس برپا شده و شرکت در آن برای همگان آزاد و رایگان است. لطفن علاقمندی خود برای شرکت در این برنامه (RSVP) را در پیامی به رامین نادری mnaderi@lapl.org بفرستید. همچنین، اگر شاعر هستید و تمایل دارید شعرتان در برنامه های ما خوانده شوند با ما تماس بگیرید.
برای پیوستن به ما از طریق خط تلفن از شماره زیر بهره بگیرید:
833 548 0282 US Toll-free
Meeting ID: 899 6576 7455
برای برخورداری از امکانات فراهم شده توسط قانون امریکاییان دارای معلولیت (ADA)، لطفا 72 ساعت پیش از مراجعه خود با شماره تلفن 2132287430 تماس بگیرید.
Home and Homeland in Persian Poetry
Part 1
Wednesday, July 28, 2021; 6:00 p.m.
https://lapl.zoom.us/j/89965767455
A Conversation with
Homa Sarshar
Home vs Homeland, what are the differences and similarities from the perspective of Persian poetry? It seems that such approaches fall on a spectrum with nationalism at one end and cosmopolitanism at the other. In a conversation with Homa Sarshar, we will discuss her lived experience of facing these two concepts as a journalist. This program is an introductory step in our line of inquiry in regards to the different ways of conceptualization of home and homeland in Persian poetry.
Developed and presented by the Los Angeles Public Library, this program is part of the Persian Poetry Forum of Los Angeles. Your attendance is welcome and free. Please RSVP at mnaderi@lapl.org. If you would like to join our poetry open-mic, please contact us.
To attend via phone, please us:
833 548 0282 US Toll-free
Meeting ID: 899 6576 7455
For ADA accommodations, please call (213) 228-7430 at least 72 hours prior to your visit.
—

Ramin Naderi 
(He/Him/His)
, Acting Senior Librarian
Venice Branch
Los Angeles Public Library
501 Venice Blvd, Venice, CA 90291
310-821-1769
mnaderi@lapl.org