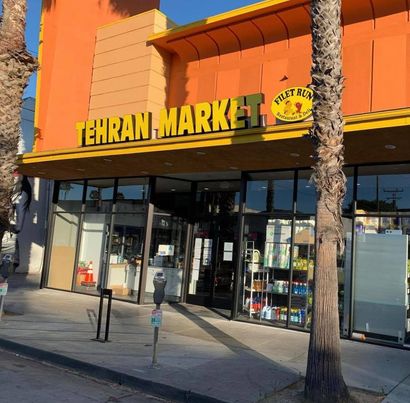 همه راه ها به تهران مارکت ستاره طلائی شهر زیبای سانتامونیکا ختم میشود. مدیریت تهران مارکت همه نوع مایحتاج روزانه شما، میوه و سبزیجات تازه، گوشت و مرغ و ماهی روزانه و گوشت و مرغ و ماهی مرینت شده کبابی، استیک و شنیتسل آماده و لبنیات، شیرینی جات و ادویه جات از شرکتهای معروف و معتبر ایرانی و خلاصه هر آنچه که نیاز آشپزخانه شما میباشد را در فضائی وسیعتر و زیباتر از همیشه همه روزه با قیمتهای مناسب برای مشتریان خود گردآوری نموده است. هفت روز هفته از خود و میهمانانتان از رستوران فیله ران تهران مارکت با دلی و خوراکهای خوشمزه، بویژه کبابهای مخصوص و لذیز پذیرائی نمائید. روزهای شنبه و یکشنبه هر هفته خوشمزه ترین کبابهای ترد و لذیز ،کباب کوبیده مخصوص، کباب برگ، شیش کباب، لم چاپ، جوجه کباب، ماهی کباب و دل و جگر و قلوه در فضای باز تهران مارکت بر روی منقلهای ذغالی در حضورتان آماده و همه گونه شفارشات و کیترینگ پذبیرفته میشود. از سوپرمارکت پربار ما دیدن فرمائید و بهترینها را انتخاب کنید. یک سانتامونیکا و تنها یک تهران مارکت
Open since 1987, Santa Monica's Tehran Market has long been one of LA's premier Persian grocers, a reliable source of spices, produce, and sweets for the city's sizable Iranian population. As such, they've also been expanding almost since the day they first opened. We offer the followings:
1. Fresh herbs!!!! Cilantro, mint, chives, tarragon, dill (the 5 you will find in Samin Nosrat's amazing Herb and Radish Salad with Feta and Walnuts — cooking.nytimes.com/reci…
Plus flat leaf parsley, fresh fenugreek leaves (Shanbalileh in Farsi) for Indian dishes. At prices that let you go crazy and buy more than you need.
2. Dried spices (whole and ground– more than one brand, many sized containers)!!! Coriander, cumin, star anise, turmeric, sumac, amchur, fenugreek, cayenne, garlic slices (try them–you can also grind them to make garlic powder), rosebuds, cardamom, yellow mustard seed, cloves, paprika, Za'atar, regular thyme, oregano, nigella seeds (must try), anise seed, dried lime "Omani", fennel seed, poppy seeds, sesame seeds, and more, again at great prices.
3. Sangak bread sold fresh near checkout. Delicious flatbread and you can freeze it too.
en.m.wikipedia.org/wiki/…
Crackers that look like they are made with a sangak flatbread and sold in rectangular plastic containers.
4. Cheeses: You will love the King brand Armenian string cheese with nigella seeds (black seeds) inside. It's delicious out of fridge or melted on anything. Feta cheese. Halloumi cheese. Lots of other cheeses to experiment with.
5. Grains and pulses: Do you want fine, medium or coarse grain bulgur– it's here. Chickpeas, yellow lentils, red lentils, buckwheat groats (kasha), couscous, rice flour, and so much more.
6. Tahini: maybe 6-8 brands. Do taste tests, figure out which one you like best. Multiple countries of origin.
And let's mention halvah — same thing about so many brands and different countries to choose from.
7. Pomegranate molasses or date molasses (silan). Put silan in a smoothie, Pom molasses on a chicken roast. Do you need rose water, orange blossom water and loads of other water infusions–it's here.
8. Basmati rice–so many brands you may need to ask for a recommendation.
9. Fats: olive oil, grapeseed oil, ghee, and more.
10. Teas: try the cardamom black loose tea by Best Tea in the silver package. There are so many teas to choose from. You can start on Twinings Ultra Spice Chai Tea in teabags.
11. Vegetables: Persian cucumbers (the best), okra, eggplant, onions red and yellow, garlic, turnips, radishes, ginger, tomatoes, and more.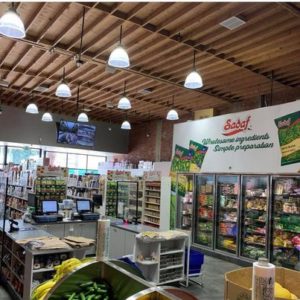 12. Saturday and Sunday there is the possibility to order grilled kabobs (check hours on website and come early if you don't want your favorite to be sold out). Chicken thighs are grilled and succulent. They all come with pickles, roasted sweet red peppers, roasted green chiles, lavash (another flatbread), and a surprise herb salad. Some o families get lamb kebabs (5 lamb chops each) and some beef kebab. You can eat for lunch and dinner. So for grilled food, come inside, order and pay at checkout, then do your shopping while we prepare your food. It will be ready when you are leaving.
What else do you get at Tehran's Market ? There is also takeout Persian food, and fresh meats and fish.
1417 Wilshire Blvd, Santa Monica, CA 90403

(310) 393-6719