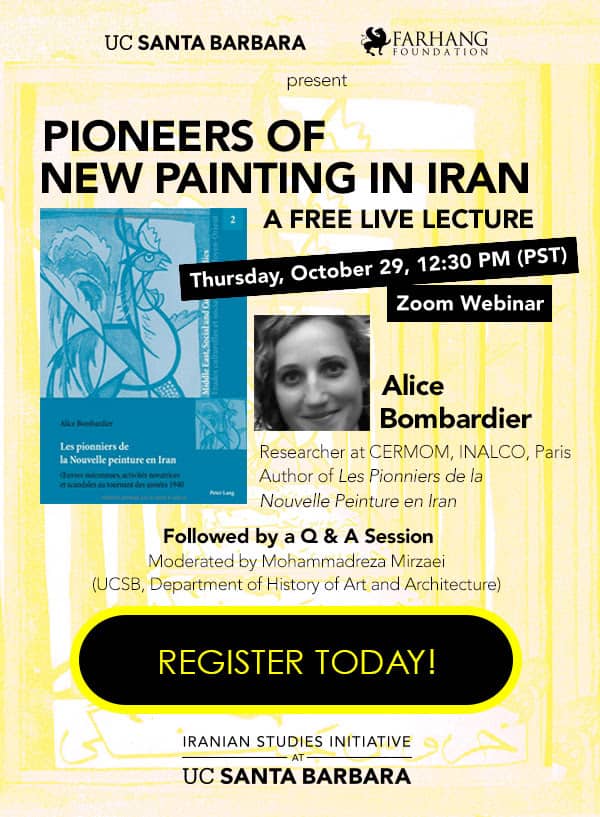 The Iranian Studies Initiative at UCSB and Farhang Foundation invite you to Pioneers of New Painting in Iran, a lecture by Dr. Alice Bombardier. This event is a part of a lecture series on Iranian Modern and Contemporary Art, which will be held during the academic year 2020-2021. This series is series has been made possible with the generous support of the Gramian-Emrani Foundation.
In Pioneers of New Painting in Iran, Dr. Bombardier will present little-known Iranian artists who developed the practice of New Painting in mid-twentieth century Iran. Facing a centuries-old pictorial heritage, they took advantage of the tumultuous 1940s to give birth to an innovative pictorial style, locally called "New Painting." Thanks to the "transgressions" of these young artists who invented new artistic and social practices (such as the use of pure acrylic colors, outdoor painting, the principle of public exhibition, and artistic collective associations), the profession of artist in contemporary Iran evolved. Yet, many forms of resistance also arose including lawsuits, censorship, vandalism, as well as bans on publishing their periodicals. Paradoxically, even today their heritage remains obscured. Dr. Bombardier will perform an anamnesis (remembering of the past) of this forgotten history, based on her book entitled Les pionniers de la Nouvelle Peinture en Iran. Œuvres méconnues, activités novatrices et scandales au tournant des années 1940 (Bern, Peter Lang, 2017).
The lecture will be followed by a Q & A session moderated by Mohammadreza Mirzaei (UCSB, Department of History of Art and Architecture).