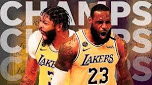 PBS SoCal and KCET are partnering with the newsroom at KPCC and LAist to bring you a daily roundup of the latest coronavirus news in the region in this daily reporter round-up.
************************************************************
On the Oct. 12 edition of the Reporter Roundup, KPCC reporters discuss reactions to the Lakers winning the NBA championship, the unofficial ballot drop boxes that popped up in Southern California over the weekend and the appeal of a new diversity metric for the film industry.
Lakers Catharsis
Hundreds of people gathered outside of Staples Center Sunday night to celebrate the Lakers winning their 17th NBA championship. Chava Sanchez describes what he saw on the streets, including confrontations between crowds and the police.
Ballot Dropoff Boxes
The Orange County District Attorney is investigating homemade, unofficial ballot drop boxes set up at churches, political party offices and retail locations. Libby Denkmann reports on who's behind this illegal collection of ballots.
Diversity Metric
A new UCLA report on the financial implications of films with diverse casts and stories found more diversity leads to greater profit. John Horn discusses the report's findings and the Authentically Inclusive Representation metric identified by researchers.