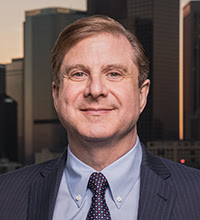 Wildfires have become increasingly common over the past decade, ravaging millions of acres in California's rural and metropolitan areas. Although fires start for a number of reasons — including high winds and dry conditions — 85 percent stem in some way from the impact of humans on the environment. L.A. Controller Ron Galperin's latest report assesses the wildfire risks faced by the Los Angeles Department of Water and Power (DWP) and urges the utility to take steps to better protect communities, ratepayers and the environment from the growing threat of catastrophic blazes.
According to the California Department of Forestry and Fire Protection (CAL FIRE) and recent findings, utility power lines caused eight of the 20 most destructive wildfires ever recorded. This highlights a growing concern for the DWP, which has power line infrastructure in California and two nearby states, and serves customers in the City of Los Angeles and Owens Valley. Galperin's report calls on the City and its power utility to boost inspections of overhead power lines and transmission equipment, eliminate maintenance backlogs on old utility poles, prioritize strategic planning to manage fire risks and expand the use of technology — including drones, predictive analytics and artificial intelligence programs — to help detect wildfire safety issues.
"As the largest publicly-owned utility in the country, the DWP is responsible for delivering power safely to 1.5 million ratepayers in Los Angeles and beyond," said Galperin. "The rash of destructive wildfires across California is posing new challenges for the DWP and other power utilities across the state. Our local public utility can to do more to prevent these catastrophic events, which will improve the safety and reliability of the power system as a whole."
Understanding Wildfire Risks
Accompanying his report, Controller Galperin released an interactive, online tool showing recent utility-related fires, wildfire threat areas in the DWP service territory and his recommendations for change. Users can scroll through the resource map to view information about recent wildfires — including the name, cause, dates, number of acres burned and responsible utility — and risks facing the DWP.

DWP wildfire challenges include:
15 percent of the DWP's service territory falls within elevated wildfire threat areas established by the state.
49,000 DWP utility poles, most of which are wooden, are in these areas.
30 percent of those utility poles are more than 65 years old.
18 percent of the DWP's transmission towers and power lines are in wildfire threat areas.
At least 1,048 fire safety-related maintenance orders remain backlogged in wildfire threat areas.
Since 2015, overhead power lines have sparked six of the 10 worst fires ever recorded, burning 649,000 acres, destroying 23,500 structures and killing 108 people. Downed overhead power lines operated by the bankrupt private utility PG&E caused the Camp Fire — the state's worst-ever wildfire — and the L.A.'s recent Getty Fire reportedly started when a tree branch fell onto live power lines.
LAFD examines a branch near a utility pole where the Getty Fire reportedly started. | Photo: LA Times
The DWP has already taken some steps to reduce the danger of wildfires in recent years, but given their increased frequency, the utility must do more to address potential safety issues, clear backlogs, better manage brush and vegetation, and proactively mitigate wildfire risks. Controller Galperin's report makes a number of recommendations to help DWP improve the safety and reliability of its power system for years to come:
Enhance inspections in high fire threat zones and use drone technology to evaluate utility poles and infrared cameras to detect potential equipment failures.
Eliminate all maintenance backlogs in fire risk areas.
Work with LAFD to jointly evaluate vegetation and other risks in fire threat areas.
Prioritize strategic planning to manage wildfire risks, and report to the Board of Water and Power Commissioners and City Council on utility equipment fire incidents.
Deploy remote monitoring tech tools, like HD cameras and weather stations, where fire threats exist.
Use predictive analytics and artificial intelligence programs to help the department detect wildfire safety issues.
Explore the possibility of creating a wildfire insurance fund for publicly-owned power utilities to spread financial risks, much like the state fund created in July 2019 for privately-owned utilities.
An Issue of Public Concern
NBC coverage of DWP wildfire report
Controller Galperin discussed the specifics of his wildfire report with the media this past Wednesday to better inform the public about this critical issue. Here are a few of the initial news reports:

"So many Angelenos live in wildfire risk areas. Some have been impacted by terrible fires already and, unfortunately, so many others will likely be in the future," said Galperin. "This is why I want to make sure everything is done to prevent power line-induced wildfires, and protect lives in Los Angeles and all areas the DWP serves."
Over the past few weeks, Controller Galperin met with community members across the City of Los Angeles. He participated in numerous Veterans Day events, recognized important City staff at the annual Custodian Appreciation Day celebration, delivered a presentation on municipal government to a Bar and Bat Mitzvah class at B'nai David-Judea Congregation, engaged with more than 700 residents at Congressman Brad Sherman's Town Hall, and joined the Israeli-American Civic Action Network for a special reception honoring L.A.'s Israeli-American leaders.