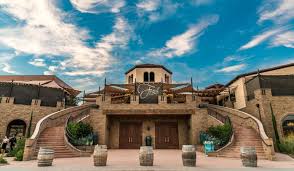 Haunted Masquerade Ball! @ Fazeli Cellars
Fri, November 1, 7pm – 11pm
Don't Miss the Annual Haunted Masquerade Ball! Tickets Sell Out FAST, Get Yours NOW!
Includes Entrance and a Glass of Spooky Sparkling Wine Doors Open at 7pm Drinks & Food Available For Purchase | DJ & Dancing! Masks Desired but Not Required!
Website:
Connecting with his Persian ancestry, BJ Fazeli chose the Shiraz grape as the benchmark grape for his winery.  From there, Fazeli Cellars' commitment to excellence has transformed his winery into home for high quality wines that pay homage to the rich cultural heritage of Ancient Persia – with roots firmly planted in modern Southern California.
Originating from his native Persia (now Iran), Fazeli entrepreneurial acumen propelled his career as a pioneering executive in direct response marketing where he founded one of the industry's most successful businesses, as well as launched art galleries and a successful restaurant in London. Through it all, Fazeli Cellars is BJ's crowning achievement, a glowing tribute to his rich heritage and love for his Southern Californian home.
What started out as a hobby became a passion – and the passion became Fazeli Cellars.
THE REGION:
TEMECULA – SOUTHERN CALIFORNIA'S WORLD-CLASS
WINE COUNTRY
Welcoming more than 2 million visitors each year, the casual, picturesque Temecula Valley – home of Southern California's world-class wine region – is a year-round getaway and vacation destination located 60 minutes from San Diego, Orange County, and Palm Springs; 90 minutes from Los Angeles and Hollywood. A memorable day trip or weekend getaway, Temecula is the jewel of the Inland Empire, offering a wide choice of five-star resort accommodations and restaurants, as well as an abundance of leisure activities that range from balloon tours over the valley to horseback riding.  Surrounding the Temecula valley Wine Country are the Palomar Mountains, the Rainbow Gap, and Santa Margarita Gap.  Popular boutique destination includes the Temecula Valley A.V.A. (American Viticulture Area) as well as Downtown Old Town Temecula, Pechanga Resort & Casino, and the De Portola Wine Trail.
Fazeli Cellars ranks among the region's most celebrated wineries, and BJ Fazeli is lovingly recognized as one of the region's leading ambassadors.
BJ built Fazeli Cellars to reflect pride for his own rich cultural heritage.  The result is a unique combination of Modern Moorish architecture and ambiance that honors ancient Persian traditions, while paying tribute to the contemporary character of California as is reflected on the back label of all his wines "Ancient traditions of Persia rooted in the modern expression of California." Wine tasting and dining are enjoyed in a luxurious setting where panoramic windows overlook Temecula's spectacular vistas. Grand-scale events are presented with exquisite flair in Fazeli Cellars' extraordinary banquet facilities.  And wedding ceremonies – a Fazeli Cellars and Winery mainstay – are lovingly conducted in magnificent park-like surroundings against a backdrop of Temecula Valley's dazzling splendor.  The winery also houses Baba Joon's kitchen – Fazeli Cellars' A-rated dining destination for lunch and wine pairing.
Exquisite, award-winning world-class boutique wines…superb dining in an airy atmosphere…luxurious settings for an unforgettable wine-tasting experience… unparalleled wedding grounds and wedding event facilities…and a state-of-the-art banquet hall for large-scale private or corporate events to public concerts – Fazeli Cellars is a valley jewel located in one of Southern California's most majestic travel getaway destinations.
Nestled in the picturesque rolling hills of the De Portola Wine Trail – the famed 'Wine Row" of Southern California's spectacular Temecula Valley wine country – Fazeli Cellars soars as a state-of-the-art winery offering a combination of stunning architecture, breathtaking scenic beauty and the finest selection of boutique wines the region has to offer.
Bizhan "BJ" Fazeli fulfilled a life-long passion in the acquisition and development of his Temecula vineyards/winery.   Since its first vintage in 2006, Fazeli Cellars today boasts more than 20 varietals of boutique wines from Cabernet Sauvignon to Sauvignon Blanc, Petit Sirah to Mourvedre, and Viogner to Chardonnay that have earned numerous prestigious festival competition awards – and the loyalty of enthusiasts across the region.