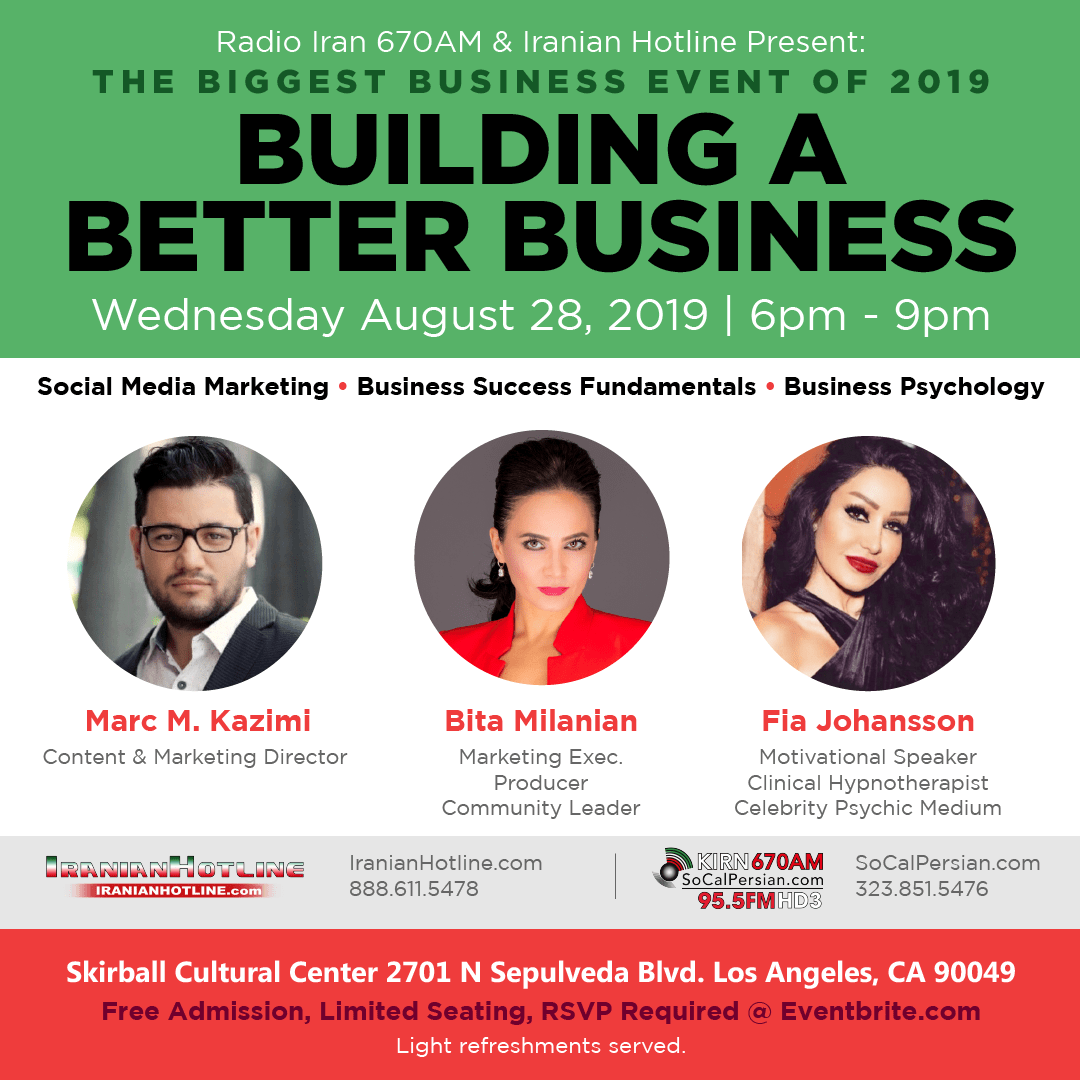 Business Networking & Educational Conference for Professionals, Business Owners & Entrepreneurs
Free Admission, Limited seating, RSVP Required.
The THIRD Networking & Learning Business Event by Radio Iran 670AM & IranianHotline.
Networking session, plus Educational Conference with distinguished speakers.
Panel of Speakers:
Marc M. Kazimi, Content & Marketing Director
Bita Milanian, Marketing Executive, Producer & Community Leader
Fia Johansson, Motivational Speaker, Clinical Hypnotherapist, Celebrity Psychic Medium
6 – 9 pm, at The Skirball Cultural Center, 2701 N Sepulveda Blvd, Los Angeles, CA 90049.
Call 888.611.5478 for Sponsorship Packages or any questions.
6 -7 pm: Networking, Bring your Business Cards!
7 – 9 pm: Conference, Q&A,
Light refreshments will be served.
Information & Sponsorship information: 888.611.5478 .
You can register for free by texting 'RadioIran Business' to 49330.
Iranian Hotline:
Iranian Hotline
T: 888.611.5478 / Email: Info@IranianHotline.com
Or
Radio Iran 670AM :

T: 323.851.5476
Generously sponsored by Skirball Cultural Center,
Radio Iran 670AM & Iranian Hotline.
Check bios at: https://www.facebook.com/events/2394857890759349/
Reserve  your seats by :
https://www.eventbrite.com/e/build-a-better-business-network-learn-grow-tickets-63784115005?fbclid=IwAR2SwfnPWAfn1Delf_P5YUTGet7fBym-y9oCM-zlsMm_iLxCcnhY9TKKedg
Where :