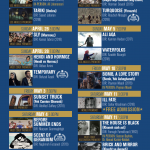 WHAT: UCLA Celebration of Iranian Cinema sponsored by Farhang Foundation. All films originate from Iran and are in Persian with English subtitles.
WHEN: April 27 – May 11, 2019
WHERE: UCLA's Billy Wilder Theater at the Hammer Museum
TICKETS: Regular screenings: $10 general admission available here
LOS ANGELES, CA, April 9, 2019 — The UCLA Film & Television Archive's annual Celebration of Iranian Cinema—the first showcase for new Iranian films in the U.S. — marks its milestone third decade with a program that illuminates the latest cinematic trends with comedies and outright satires as well as gripping dramas and documentaries that explore the complex realities of Iran's contemporary moment and the difficult history that shaped it. The event continues to be a platform for exciting new voices in cinema as well as a dialog to foster cultural understanding.
"Every year putting together the program for the UCLA Celebration of Iranian Cinema is a journey of discovery," says Paul Malcolm, film programmer for the UCLA Film & Television Archive. "This year I'm not only excited about sharing every individual film with our audience, but I am also very happy at the range of subject matter and genres that are in the line up this year, from family dramas to romantic comedies to the overtly political satire in Sly. I think our audiences will be pleasantly surprised at what they will discover in this year's selections."
"We are delighted to once again join forces with the prestigious UCLA Film & Television Archive to help present this year's Iranian film series," says Alireza Ardekani, Executive Director of Farhang Foundation. "The archive's dedication and service to Iranian cinema over the last three decades is definitely commendable, and they should be applauded for what they have achieved in celebrating and showcasing the best in Iranian cinema with the entire community."