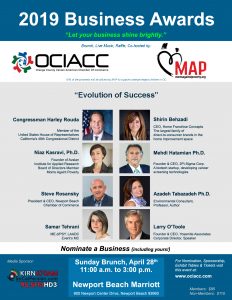 Nominate your business or a business that deserves recognition for being the next:
Business of The Year – Demonstrating excellence in providing unique products and great service.
Economic Growth Award – Attaining revenue growth of at least 30% in past 5 years.
Entrepreneurship Award – Successfully initiating new business concepts and managing the risks.
Innovations Award – Being identified as a next generation creator.
Longevity Award – Being recognized as a business in good standing for 10+ years.
Customer Service Award – Routinely provides exceptional customer service.
یکشنبه ۲۸ اپریل ، اتاق بازرگانی اورنج کانتی، او-سی-اک ، دومین مراسم بزرگداشت و تقدیم لوح سپاس به بزینسهای موفق را در شهر نیوپورت بیچ برگزار میکند. در این برنامه سخرانان حاذق در مورد سیر تکاملی و راههای موفقیت در بیزنس صحبت خواهند کرد. پذیرای با صرف برانچ و اجرای موزیک توسط اقای مهرداد اختراعی خواهد بود.
شما میتوانید بزینس خود و یا دیگری را برای دریافت جوایز بهترین بزینیس در این مراسم کاندید کنید
لطفا برای درخواست اپلیکیشن به وب سایت او سی اک مراجعه کنید
برای تهیه بلیط به وب سایت: www.ociacc.com مراجعه کنید . دیدار ما یکشنبه ۲۸ اپریل در هتل مریات نیو پورت بیچ.