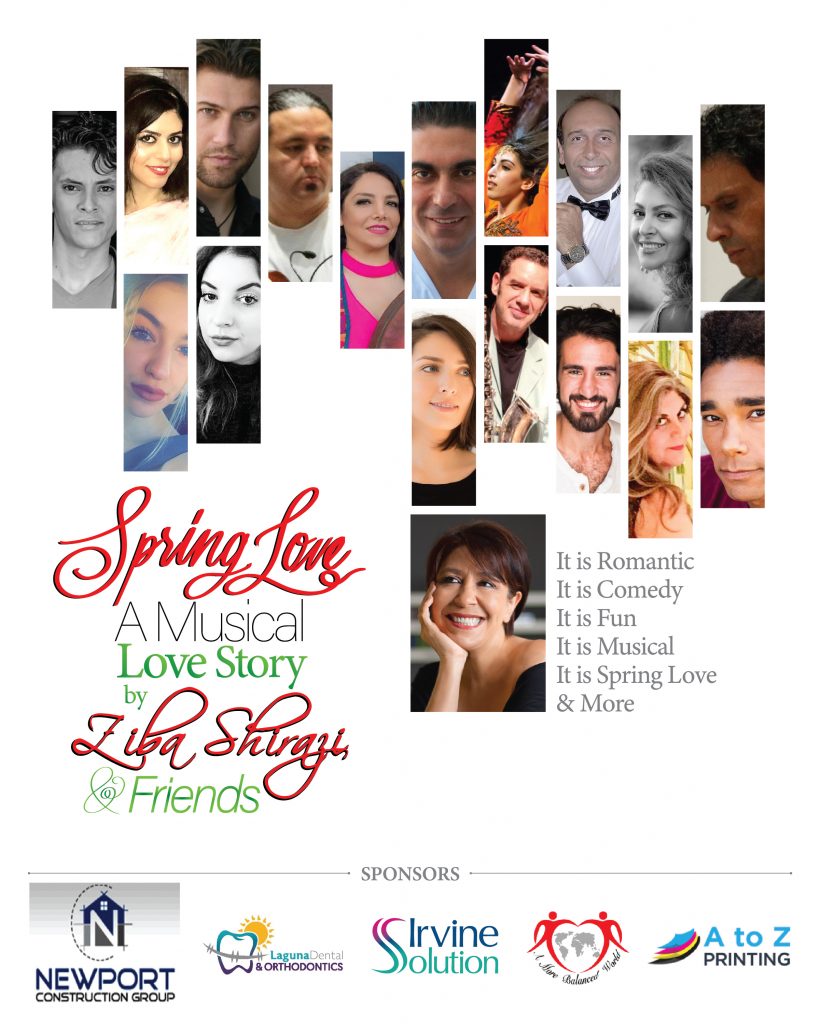 زیبا شیرازی بار دیگر با استعداد منحصربفرد و قابلیت های موسیقیایی خود، روایتی کلاسیک درباره مهاجرین ایرانی را در قالب جاز فیوژن در مرکز تئاتر بارکلی به صحنه می آورد.
در سفر به ایران، مهد این داستان، با زیبا و دوستانش همسفر شوید. در این روایت آموزشی مفرح و اجرای فرهنگی، زیبا شیرازی  شب یلدا ( طولانی ترین شب سال)، چهارشنبه سوری (آخرین چهارشنبه سال)، نوروز (سال تحویل و اولین روز بهار) و سیزده بدر (سیزدهمین روز سال جدید) را به همرا شما جشن میگیرد.
در این شب هیجان انگیز و بیادماندنی همراه ما باشید. این اجرای رومانتیک، کمدی و موزیکال مناسب تمامی اعضای خانواده است. زیبا داستانش را به زبان انگلیسی روایت میکند اما ترانه ها به فارسی همراه با ترجمه انگلیسی روی صفحه نمایشگر اجرا خواهند شد.
عشق بهاری برای اولین بار در LACMA بمناسبت جشنهای نوروزی سال ۲۰۱۴ با حمایت مالی بنیاد فرهنگ اجرا شد. در سال ۲۰۱۵ این برنامه در مرکز هنری Soka آرنج کانتی در حضور بیش از ۸۰۰ تماشاگر اجرا گردید.
اکنون زیبا شیرازی و دوستانش در ایرواین،  روایتگر تجربه زیبای عاشق شدن سه نسل از یک خانواده خواهند بود. اجرای جدید با افزودن داستان ها، ترانه ها و بازیهای  نو متفاوت از اجراهای قبلی خواهد بود.
From her classic story-telling style performances about Iranian immigrants, to her fusion jazz concerts, Ziba Shirazi brings her unique talent and musical prowess to the Barclay Theatre's stage.
Join Ziba and her friends as she takes you on a journey back to Iran, the home of her story. In this enlightening, educational, and cultural performance Ziba celebrates Yalda (the Winter Solstice), Chahar Shanbeh Sori (the last Wednesday of the year), Nowruz (the new year which takes place on the Spring Solstice), and Seizdah Bedar (the thirteen day of the new year).
Join us for a night of excitement and entertainment you'll never forget. This is a fun, romantic, musical comedy that's great for the entire family and certainly a performance you don't want to miss!
Ziba will tell her stories in English but will sing her songs in Farsi with the English translations projected on the screen.
Spring Love was first performed at LACMA during the Nowruz Celebration in March 2014, sponsored by the Farhang Foundation. It came to the stage in Orange County at the Soka Performing Arts Center in 2015 with more than eight hundred people in attendance. Ziba Shirazi and friends will come to Irvine's Barclay Theater and they have added new stories, songs, and acts to the already beautiful love story of three generations of a family experiencing love at first sight."